A training session for community elections process.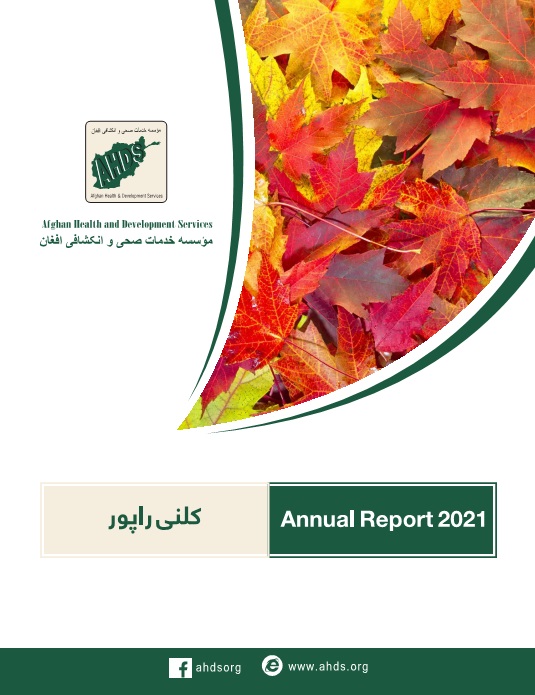 SDG
AHDS' theory of change describes how to ensure universal health coverage (UHC) and the right to the highest attainable level of health. Based on the new strategic plan, AHDS services contribute to the sustainable development goals (SDGs) 2, 3, 4, 5, 6, 8, 13, 15 and 16.
The humanitarian conditions created by Afghanistan's multi-dimensional crisis continue to impact all parts of the country and affect every aspect of Afghan life. In 2022, the people of Afghanistan will be well into their fifth decade of grappling with the safety, security, financial and emotional consequences of war and political turmoil.
The collapse of basic services following the political takeover and freezing of development assistance puts the entire population at risk with a very real risk of systemic collapse and human catastrophe that threatens to cancel many of the development gains of the last twenty years, with nearly 97 per cent of the country at risk of falling into poverty
The improved security situation is anticipated to increase the return of conflict-displaced populations to their place of origin. This is expected to drive shelter, food, livelihoods and protection needs, particularly basic service provision and infrastructure has been compromised by conflict.
Without massive intervention both for humanitarian assistance and restoration of basic services, the humanitarian needs are likely to continue to deteriorate over 2022.
Excerpts from Humanitarian Needs Overview Afghanistan, January 2022, consolidated by OCHA
Projects 2021
Humanitarian aid
The Emergency Healthcare project for conflict and drought affected people in Uruzgan Province: aimed to improve the wellbeing of the general population through improved access to primary healthcare (PHC) services targeting IDPs, returnees, and vulnerable host communities in the districts of Uruzgan Province for one year. The project was funded by OCHA-Afghanistan Humanitarian Fund (AHF).
Community Development
Citizens' Charter National Priority Program (CCNPP) is facilitated by AHDS&SDO joint venture that supports the communities and their elected Community Development Councils (CDCs), extending from community mobilization to full utilization and monitoring of their block grants in Uruzgan and Zabul. Social Inclusion Grants (SIG) as CCNPP sub-program, mobilizes the communities and their CDCs stop seasonal hunger by establishing a simple safety net for the poorest. AHDS facilitates the Uruzgan part. The project is funded through MRRD by the World Bank (IDA).  
Strengthening COVID-19 Response in Afghanistan
It aims to cover the most critical COVID-19 associated needs immediately, with a focus on promoting community-centered interventions and supporting the existing health system. A consortium led by AKDN implements interventions directly in 16 provinces. AHDS implements activities in partnership with Cordaid in Nimroze and Kandahar provinces. The project is funded by the European Commission.
COVID-19
The worldmeters.info reported 158,098 confirmed COVID-19 cases with 7,356 registered deaths from the illness till 31 Dec 2021 in Afghanistan.
Strengthening COVID-19 Response in Afghanistan is a project that aims to cover the most critical COVID-19 associated needs immediately, with a focus on promoting community-centered interventions and supporting the existing health system. Within the consortium led by AKDN, AHDS implements activities in partnership with Cordaid in Nimroze and Kandahar provinces. The project is funded by the European Commission.
This is to be achieved through activities that are geared towards the following specific objectives:
Increasing the response capacity of the health system
Improving infection prevention measures and capacities.
Reducing nutritional risks.
Strengthening and sustaining community efforts to prevent the spread of COVID-19 in alignment with the national COVID-19 Global Response Plan, guidelines and strategic priorities.
The target population includes existing beneficiaries in program areas, as well as healthcare professionals. Particular attention will be given to the most vulnerable individuals and families in program areas, including women and girls, Internally Displaced Peoples (IDPs) and returnees, Kuchis, the elderly, people with disabilities, those with underlying health conditions, those experiencing economic stress, and other at-risk individuals.
The results of activities for this year were:
Established 4 sample collection centers
Trained 170 health staff on infection prevention and control (IPC) and use of PPE kits.
Built capacity of 2,528 community influencers on preventive measures against virus contamination and provided them with PPE & hygienic kits (member of village committees, teachers, community health workers and preachers)
Conducted community awareness sessions on COVID-19 prevention, referral services, minimize stigma and promote local resolutions. 47,348 people reached in schools, universities, community gatherings, before Friday prayers and in the waiting areas of health facilities.
Distributed food baskets to 662 eligible COVID-19 patients.
Distributed weekly iron and folic acid supplements (WIFS) to 5,580 adolescent girls in the communities.
Conducted community level reproductive health awareness & education sessions for 3,584 eligible women.
Provided technical and logistical support to 836 district level municipality workers for proper waste collection and disposal.
Distributed WHO approved COVID-19 messages through traditional media channels, banners, billboards, local radio spots and flyers to all targeted communities.
Increased awareness of 6,130 people with severe/chronic diseases regarding COVID-19.
Conducted awareness sessions on gender-based violence (GBV) prevention and referral services for 5,129 women.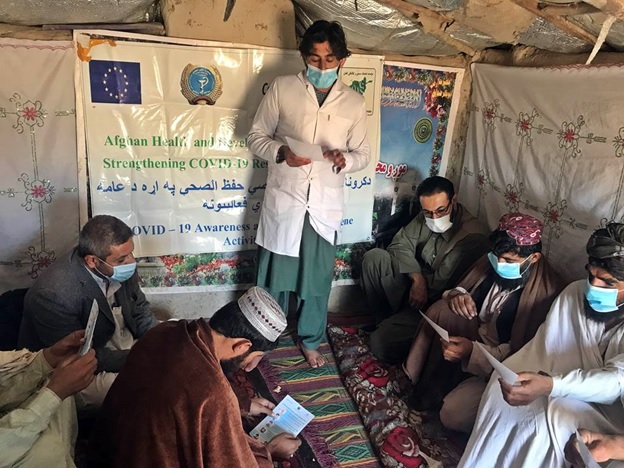 Training session for community health workers on use of IEC material to raise community awareness about COVID-19
Humanitarian Aid
AHDS provided emergency healthcare and psychosocial support for the needy people. The aim was to improve the wellbeing of the general population through improved access to primary healthcare (PHC) services targeting IDPs, returnees, and vulnerable host communities for one year in Uruzgan Province. Project was funded by OCHA from the Afghanistan Humanitarian Fund (AHF).
The services were provided by eight Mobile Health Teams (MHT) in remote conflict areas of Chenarto, Chorah, Khas-Uruzgan, Dehrawud and Shahid Hassas districts; Uruzgan Province.
The project ensured vulnerable people affected by conflict, natural disaster and population movement in districts are reached with quality, essential and life-saving healthcare services, including maternal and child health, reproductive health, mental health and psychosocial support, trauma care, health services for the elderly and rehabilitation for people with disabilities.
The project focused on the population pockets who do not have access to integrated package of essential health services (IPEHS). The health committees appreciated the assistance and asked for continuation of the health and related services.
Health education session in a village to raise awareness about COVID-19.
Healthcare
Through the "Healthcare for drought and conflict affected people in Uruzgan" project, AHDS provided life-saving primary health care and psychosocial protection services for an estimated 35,081 host and internally displaced people in the target communities.
Eight Mobile Health Teams (MHTs) served communities in the remote areas of the selected districts. The team were based at the main villages and visited different locations, for provision of services on daily basis as per preannounced schedule in specified target areas of the districts.
During the project life (one year) the teams treated 101,280 patients including 30,432 men; 41,467 women; 14,326 boys and 15,055 girls. Out of the 976 patients including 656 acute malnutrition, 230 trauma, 23 mental health and 67 other severe cases were referred to the upper-level health facilities.
Focused psychosocial care and counseling was provided for 7739 patients and clients including 2,305 men; 2,977 women; 1,112 boys and 1,345 girls.
Health committees and community elders (1,118 people) were mobilized through community dialogue to prevent and response to GBV.
Furthermore, 4,563 trauma cases were treated; 1,396 antenatal care visits for pregnant women; 1,780 children received routine childhood vaccines; and 5,091 women, men, girls and boys received clinical management of mental, neurological or substance use disorders.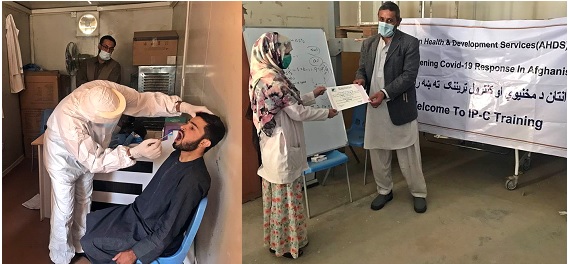 left: sample taking for COVID-19 test, right: certificate of attendance for training on infection prevention and control.
Polio
2021 has been the year of lowest polio transmission in Afghanistan. The factors that have been identified as contributing to continued polio transmission are: poor health service, lack of awareness, illiteracy, high incidence of diarrheal diseases, and low oral polio vaccine coverage.
Four wild poliovirus cases have been reported in 2021 in Afghanistan. The first case was reported in January 2021 from Ghazni Province, while the other three cases were reported in October and November from Kunduz Province.
The Polio campaigns are implemented by frontline workers who go door-to-door and health facilities to ensure every child is protected against the paralyzing disease. Communication and community engagement activities play a crucial role in encouraging and influencing behavior change amongst communities nationwide.
Polio vaccination campaigns in the last quarter 2021, reached children in areas previously inaccessible by the polio program including 2.4 million children who were vaccinated for the first time in over three years.
Six more campaigns are planned for 2022 and we must ensure they are implemented timely and reach all children. This remains the best opportunity to interrupt transmission of wild poliovirus and achieve eradication.
Source: UNICEF
Community Development
AHDS in partnership with SDO was facilitating partner (FP) for the Citizens' Charter National Priority Program (CCNPP) and Social Inclusion Grants (SIG) under pakage-1 in Uruzgan and Zabul provinces. This was a three-year project (May 2017 – May 2020), later on extended up to 31 October 2021.
The project management unit (PMU) under provincial rural rehabilitation and development directorate (PRRD) was responsible to transfer funds and assist the community development councils (CDC) to implement their community development plans (CDP).
The activities of this year were assisting the people in Cluster CDCs development plans, establishing CCDC subcommittees, trainings for the subcommittees, nutrition trainings, linkage meetings, community monitoring, score card, and distribution of aid to SIG beneficiaries.
As a result, the target communities gained the knowledge and skills to elect their representatives, assign tasks, community mapping, set priorities, develop plans, assist destitute, actively engage in emergency mitigation and development and finally manage their villages.
Impediment
The expansion of program was very slow, due to cultural restrictions on women and major number of villages under control of Taleban in Uruzgan Province. Movement restrictions were imposed by both sides; the government forces and the opposition militants. AHDS staff had very hard times to convince them that it is a national program without any political agenda.
Although, in principle both sides accepted the program, higher authorities promised full support, unfortunately, their field staff did not allow expansion in practice. AHDS Board Members and the community elders continuously strived to facilitate the ground works, in spite of several promises, it could not materialize.
The question of withdrawal was discussed with the Board Members, their advice was let's keep trials; as Taleban authorities has not refused the program, there is hope to progress. Withdrawal will jeopardise the communities, not the conflicting forces.
The take over by Taleban could facilitate progress of the works in the field, but unfortunately, World Bank suspended all its operations in Afghanistan.
Since the contract is result based (US$ 5644.21 completed work in each community), the project has incurred an extra expenditure comparing to the funds received from the donor. AHDS has suffered a net loss of US$ 256,801, which is paid from its reserves.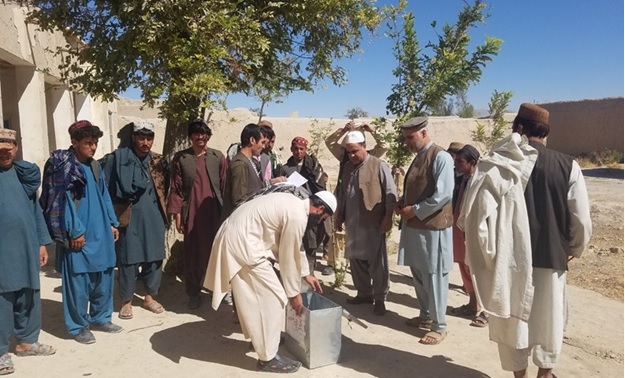 Facilitating Partner
AHDS
SDO
Province
Uruzgan
Zabul
District ولسوالی
Tirinkot
Chora
Qalat

Tarnak o

Jaldak

Total
Target communities
120
17
191
126
454
Communities covered
112
17
187
113
429
Activities achieved (May 2017 – Oct 2021)
 
CDC Elected
91
12
187
114
404
Cluster Elected
74
12
177
95
358
CDCـ_CDP
86
12
186
113
397
Cluster_ CDP
74
12
176
95
357
 CDCs Sub-Committee
86
12
181
112
391
Cluster CDCs Sub-Committee
74
176
112
362
CDC, Procurement and finance workshop
86
186
113
385
CDC, Gender and environment workshop
86
186
113
385
CDC, Project risk and disaster management
86
185
113
385
CDC, Monitoring workshop
86
185
113
385
Cluster, Procurement and finance workshop
74
185
113
368
Cluster, Gender and environment workshop
74
185
113
372
Cluster, Project risk and disaster management
74
185
113
372
Cluster, Monitoring workshop
74
185
113
372
CDC and CCDC Refresher Training
74
185
113
372
Nutation Training (1,2,3 round)
258
555
339
1152
Linkages; quarterly (1,2,3,4,5 round)
280
890
452
1622
Linkages; bi-annual (1,2, 3 round)
210
534
226
970
Human Resource
AHDS provided 142 job opportunities in 2021; out of which 12% employees were women. 14 female and 22 male staff received in-service trainings including gender mainstreaming, monitoring, safe quitting, self-care for social change, accountability to affected people (AAP),
feedback and response mechanism (FRM), safeguarding, data management, mental health and psychosocial support (MHPSS), online data management (KOBO, ODK and Report Hub). Furthermore, 5 youth were enrolled as interns to learn hands-on finance and administration skills.
Future plan
Afghans in general, and the non-for-profit and civil society organizations in particular, are faced with a fundamental question; where should we focus our limited resources to maximize our effectiveness in the improvement of the socio-economic, social justice, and security challenges of the country.
AHDS' theory of change describes how to ensure universal health coverage and the right to the highest attainable level of health. It can be achieved through promotion of healthy lifestyle, provision of primary healthcare and addressing the root causes of environmental and social threats to health. AHDS' theory of change stresses the need to improve its ability to identify and respond to such moments. AHDS play its role by advocacy, technical assistance, and provision of development and emergency relief programs. AHDS can convene like-minded organizations such as civil society organizations (CSO), private sector, government and the international community.
AHDS advances diversity, equity, and inclusion throughout its internal culture and programs. AHDS focuses on the people with special needs, internally displaced people (IDP), returnees and other marginalized and disadvantaged groups especially those with disabilities. AHDS recognizes the importance of gender equality; therefore, is committed to mainstreaming gender measures.
AHDS' strategic objectives are:
Healthcare: increased access focusing on emergency services, health promotion and prevention.
Nutrition: improved nutrition status of the children and pregnant and lactating women.
Education: empowered youths for provision of equitable services and economic growth.
Environment: protected human health and the environment.
Community development: enabled people to interact and work toward common goals.
The empowerment of our people is the fundamental path to achieving these dreams and aspirations. Social justice is only possible through quality education, promotion o sustainable livelihood, and good governance.  Therefore, it is our determination that we as a team at AHDS, along with our beneficiaries and partners, will strive tirelessly and patiently to do our part as part of the Afghan nation to overcome these challenges.
Finance
Total expenditure in the year 2021 was USD 864,677.
Due to the change of government on August 15, 2021, the banking system of Afghanistan has almost collapsed. Freezing of Afghan central bank's assets by USA, freezing of bank accounts linked to the names of previous government employees, restrictions on transfer and cash withdrawal, and internal management challenges of the banks sent financial shockwaves in the country and halted the work of non-governmental organizations as well.
Despite all these challenges AHDS succeeded in good financial management and cash management through banks and Sarafs; could clear all its payable debts and claims as well as providing on time cash for project activities, staff salaries and suppliers dues.
Budget/expenditure in 2021
بودجی او مصارف
N.
Project Name
Duration

Partner

Donor

‌Budget of the projects for 2021
Expenditure 2021 (US$)
Status
1
Healthcare for drought and conflict affected people in Uruzgan Province
May 2020-Apr 2021
UNOCHA, AHF
129,682
91,090
Completed
2
Citizen Charter Afghanistan Project (CCAP)
May 17-Oct 2021

MRRD,

WB

exhausted in previous years
80,752
Suspended
3
Strengthening Covid 19 Response in Afghanistan
Jan 21- Jun 2023
Cordaid, EU
359,188
308,354
Continues
4
Organization contribution
Jan-Dec 2021
AHDS
221,089
384,481
Completed